INTRODUCTION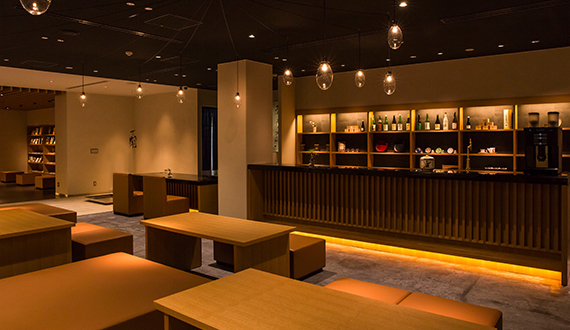 Designed for you to enjoy on fine or rainy days.

We have tables and chairs for casual use before sightseeing or returning to your room, and raised tatami mat flooring where you can take your time and relax. Choose the space with an atmosphere which best suits your purpose.
Savor the taste of carefully selected Kaga tea, 24 hours a day.

Enjoy hoji (roasted) tea, which is known as Kanazawa's everyday tea, any time you like. We also have coffee, and drinks for children. (Free of charge)
Enjoy soba noodles after dining or drinking.

We serve soba noodles free of charge daily, from 9:00pm to 11:00pm. After dining or drinking, finish your night with a bowl of noodles at the hotel. (Free of charge)
Japanese
sake bar

Kanazawa has many kinds of delicious Japanese sake. Sample various kinds of Japanese sake to select your favorite, and add a flourish to talk of your trip while enjoying a glass. (Fee charged)
Pass the time absorbed in a good book.

Academia flourished in Kanazawa to the extent that it was known as the library of the whole country. So that you can enjoy a real, Kanazawa-like experience, we have prepared a range of books, including art books and novels.
*Images are for illustrative purpose only.